2 Years Anniversary Quotes – An anniversary is a remarkable date to a particular event is it joyous or sorrowful, birth or death, wedding or graduation, an anniversary always brings back the memories of those events.
An anniversary of an event is celebrated exactly a year after the event occurred and some occasions are celebrated on a particular date every year consistently.
You may be confused as to what to write on this special occasion of yours, In this article, I will be making a list of 2 years anniversary events in which you can pick and paste to whatever event you're celebrating or remembering
RECCOMENDED > happy 2 years wedding anniversary message for husband and wife
2 Year Work Anniversary 
Hey there! Do you remember that this very day 2 years ago we came across a very skilled professional and a lovely person? Cheer up, mate, because that  person is "YOU." Thank you for being part of our organization.
Hi Mate! I just wanted to thank you for everything you've done so far for our organization and the team. All though it's too little compared to all the efforts you have put throughout the years. I want to extend my/our heartiest wishes on your work anniversary.
This is to remind you that you have come a long way, and your contributions have continued to inspire us. I wish you a very Happy Work Anniversary!
Hard work, Loyalty, and Diligence make the best employees. And I'm glad to have you with all of these qualities. It's your work anniversary today, and I couldn't have thought of any better moment than today to appreciate you and wish you good luck in all your future endeavors.
You have been an essential part of our organization's journey and success. We are eternally grateful for the dedication and passion you have shown. Thank you for being with us. Happy Work Anniversary!
It feels just like yesterday since you started working with us, whereas it's already been 2 years. I must acknowledge that you have come a long way as a professional in our organization, and we appreciate your efforts. With our best compliments on your first anniversary, we pray for more fantastic years of work together.
You have set an exemplary standard for all of us with your work ethics and your dedication. Thank you for everything you have done for us all these years. I wish you a Happy Work Anniversary!
It's tough to stay put in the same place for a very long time. However, maybe the word "Tough" wasn't in your dictionary, and you have sailed together with us through all the harsh and good times. As a part of my work anniversary message for you, I would like to congratulate you on achieving this fantastic professional milestone.
Having an employee like you is a matter of utmost pride and gratitude. Your loyalty and hard work have set an example for everyone in our organization. Thank you for being a part of our organization. Happy Work Anniversary!
Words are not enough to thank you for everything that you have done so far for us. However, I would like to extend my warmest greetings on the occasion of your Work Anniversary. Kudos to you!
2 Year Wedding Anniversary 
The best thing that makes the best couple is not the first kiss, but the enchantment they create with the love that you both share. Happy 2nd anniversary!
We are finally celebrating our 2 year anniversary! There is still plenty of adventures to look forward to, so buckle up and let's go!
Two years, two individuals, two loving hearts, and two brains to store our memories together. It's our 2 year anniversary today, and we must have a celebration!
Sending you the best 2nd anniversary wishes to renew your love and fill every moment in your life together with happiness. Happy wedding 2nd anniversary!
Life is made of beautiful little moments in life. I believe you have taken every opportunity that comes your way so as to be happy. I wish you a Happy 2nd anniversary!
You are everything I want in a woman, the two years we've spent together feel like forever. I'm fulfilled with you my love, and I would choose you over and over again. Thanks for coming into my life. You're the best, my love.
I love you! We might have been together only for 2 years, and the road ahead of us is long and far still; But I love you, so very much. I wish us both a happy and forever relationship!
Greetings to the most beautiful and admirable couple in the world, May the love the two of you share remain the same forever. Happy 2nd anniversary!
There are no words to describe the love I feel for you on our second anniversary—unwavering, tender, and boundless only begin to sum it up.  Happy 2 years anniversary dear
Wishing you a successful married life and hope that you celebrate today's milestone with happy remembrance from the past and shining hopes for the future. Happy 2nd Anniversary!
2 Year Work Anniversary Meme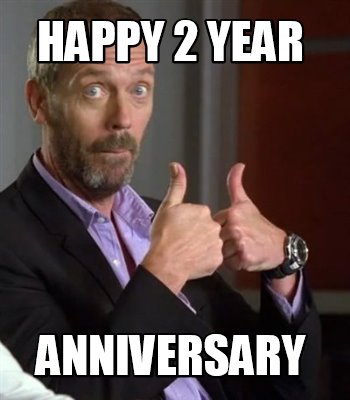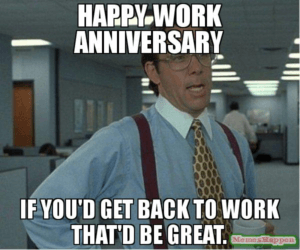 2 Years Anniversary Quotes 
First-year was amazing but the second year is far more amazing. Thank you for blessing me with sweet and great love. I love you very much. Happy two years anniversary to us.
I woke up with excitement because I have waited for this day for a long time! It's our two years anniversary, baby, and there's a lot to be happy about. I love you forever. Happy two years anniversary to you and me.
I don't have a single regret being married to you. At two years, I'm the happiest wife in the world, and my king is still the best! I love you forever. Happy anniversary to me and my king.
You are my true love of life which I found on this day, I can't wait to give you some special on this happy anniversary of our blessed relationship, loves you a lot honey!
The two of you make a difference in our lives. You give us an example of what a happy marriage looks like. Wishing you many more years. Happy Anniversary
Here is to love, to romance, to us. May we travel together through time. We alone count as none, but together we're one, For our partnership puts love to rhyme.
I will always remember the moment we became lovers. I can't imagine my life without you since then. Thank you for your love and caring. I love you!
Mom and Dad, the home you've made and your loving commitment to each other have blessed our family in more ways than we can count.
These are two years that I really lived. Two years enjoying love with a man like you? What else can a woman wish for? I love you, honey, and this is me wishing us a happy second-year anniversary.
I was lucky to meet someone who has the same drive and wanted the same things in life… We have created 4 beautiful children and I couldn't wish for a more loving and caring mummy for them… Happy anniversary, I love you
2 Year Anniversary Quotes For Boyfriend 
You are the true meaning of happiness, joy, and restfulness for my soul. Thank you for treating me like a queen. Happy anniversary, my king. Love you so much.
Your every kiss and every hug tell me that you have kept the promise you made on this day! Happy anniversary! We'll never let go of each other!
Happy anniversary to my beloved boyfriend! You have given me one rollercoaster of a journey with you in the past year, and I am definitely craving for more. Here's to our happiness together!
I wish that I can just announce to the entire world that I have already found the best boyfriend in the world. No one else can ever surprise me as you do for our anniversary. Happy anniversary my love!
I got a reason to live my life, I got a smile to be happy, I got a joy to cheer because I got you in my life forever. Though it has only been two years, it seems the relationship between you and me is longer. I want to spend the rest of my life with you to enjoy my life, happy anniversary.
Happy anniversary baby! I hope that I have been an amazing girlfriend to you just as how you have been to me for the past years we have been together. Thank you for everything.
No words are enough to express my love for you; but one thing I let you know, when you are with me, I have no fear of the world, but without you, life is worth dying. I love you more than anything else in the world. Happy anniversary.
I am so lucky to have you, my love. I could not have come this far without. On our anniversary today, I want you to know how special you are and that you mean the world to me. Happy anniversary!
Leaning down my head on your arms, I can sleep without any worry; keep me in your heart always, as there is no place as beautiful as it is for me. Life seems perfect when you are around, I can feel the joy, happiness, and all emotions of life only with you. Love you.
Hey baby, I just want you to know that I really appreciate us being strong enough to go through the ordeals that we did in the past year. Here's to us, loving as ever but even stronger! Happy two years anniversary baby!
READ ALSO >Romantic 2 Year Love Anniversary Quotes For Girlfriend Copy And Paste
2 Year Anniversary Captions 
To celebrate our 2nd Anniversary… and to help you create the perfect date night at home here are a few of our favorite recipes. Happy Anniversary & enjoy! 😍♥️
My love, I feel the love same as the first time I saw you. The feeling is unchanged and I want to have you in my life for eternity.
My nine-word love story: "Life is so much better with you in it." Happy 2nd anniversary to us!
Second anniversary is not a grand one, but it is still meaningful. Enjoy it, and may God bless you two with lots of joy.
2 years ago for the first time, we danced together… it's fair to say it was love at first sight. Happy Anniversary, Sweetie. #Anniversary
To celebrate 2 years, think back to the first time you experienced the app or website. What was your profile picture? Your settings? We've evolved a lot since then.
There's no one else in the world I'd rather have snoring beside me.
2 years of successful marriage you should celebrate, Now get ready for the party and cut the cake!!!
Happy 2nd anniversary to the most stylish couple we know ✨👰☕️ … Two years and counting with you guys 💐
Sometimes I wonder how you put up with me, but then I remember that I put up with you too, so that makes us even. I love you!
2 Year Anniversary Quotes For Husband 
I've enjoyed every bit of my journey with you since the day we both said "I do." I look forward to creating many more beautiful memories with the man of my dreams. Happy anniversary, my love!
Wow! Today, I realized how quickly time flies. it seems like it was just yesterday that we got married. I adore you so much. Here's to you! Happy anniversary, sweetheart!
Much love and happiness to my hubby as we mark our special day! Let's have a blast tonight and drink the very same wine that we toasted on our wedding day. You're the world's #1 most amazing husband!
The bright future I see ahead exists because of your love and support. It's hard to imagine a life without you. All I have to offer you today is my sincerest thanks for your love. I'm so deeply happy with the life partner I chose.
Since I met you, my life has never been the same. Thanks for making it better and happier. I love you and Happy Anniversary, hubby! I thank God for giving me the best husband!
The very first moment I laid my eyes on you, I knew our hearts were meant to be. You are my courage, my angel, my soldier. You saved me. I love you.
From the day we met, until the day we said, "I do," right up until now I've always known you were the perfect man for me. Happy Anniversary, my love!
Our loving commitment to this lifelong union truly calls for celebration. Congratulations and happy anniversary, my darling! Let's enjoy this night together.
Every heart sings a song, incomplete until another heart whispers back. Those who wish to sing always find a song. At the touch of a lover, everyone becomes a poet.
You are truly a blessing from God. Thank you for being my partner, husband, lover, and friend. Happy anniversary!
2 Year Wedding Anniversary Quotes
It has been such a wonderful experience living with you for these two years. Thank you for making me feel special, loved, and cared for always. Happy anniversary!
No one else would understand our relationship, and no one else in this world would understand me the way you do. Happy anniversary!
When I first met you, I had no idea I was meeting the most caring person in the world. You're my source of happiness and strength. Here's wishing you a happy 2 years wedding anniversary, my life partner!
With you, I became a better person. Without you, my life will never be complete. Thank you for choosing me as your better half. Happy anniversary!
No one knows how to make my day like you do, my dear. Our love is beautiful and sensational, and I don't know what I would do without it. Happy anniversary, my sweet.
While it's true that destiny brought us together, I think that our patience, courage, and commitment are what have kept our union strong and allowed it to stand the test of time. Excellent work, my dear! Here's to the years to come.
Another year to create precious memories together. Another year to discover new things to enjoy about each other. Another year to strengthen a marriage that defines forever. Happy anniversary!
Not only have I seen the truth in your eyes, but you also remind me of time itself for you are my past, present, future, and forever. I love you. Happy anniversary.
You're the one who still gives me butterflies in my stomach after all these years. Thank you for being the most romantic, sexy, amazing husband in the world! Happy Anniversary, baby!
On our anniversary, I want you to know how much I've enjoyed annoying you all this time & how excited I am to keep doing so in the future.